With a Hall Brawl as this weeks cliffhanger and a final on the horizon, The Challenge gods are gearing us up for something special these next few weeks. Tonight's episode showed us what not to do when creating eliminations, that we should always trust Turbo, and even when his back is against the wall – Wes' resilience and ability to perform shows no bounds.
These rankings reflect on the last episode, based on performance, drama caused, alliance movement, and of course opinion. These rankings will also be a collection of three different sets of power rankings from the staff and averaged out to give the most unbiased rankings on the web.
12. Hunter
Highest Rank – 11 Lowest Rank – 12 Last Week – 10 (-2)
Has Ashley rubbed off onto Hunter? Is that was is making him want to quit? Hunter has long been known as a fierce competitor with a never surrender attitude, BUT since the money was ripped away from him last season he's lost the chip on his shoulder. This daily challenge Hunter thought was made for him even though it was an endurance challenge which he typically struggles at. The pair of Hunter/Mattie should've been able to carry more weight than the other teams, but they failed to win. Hunter now has a 33% chance of going onto the Killing Floor next week, although this elimination appears to benefit him the most.
11. Dee
Highest Rank – 10 Lowest Rank – 12 Last Week – 9 (-2)
This was a quiet week for Dee with only two negatives and no real positive outside of it being a guy's day and she was safe. Dee/Kyle failed to make the Tribunal, and then she was on the wrong side of an argument involving Ninja and Turbo. This was not a good look for Dee.
10. Kyle
Highest Rank – 9 Lowest Rank – 11 Last Week – 8 (-2)
Kyle has groomed into a challenge vet in front of our eyes. From a guy who was just a party goer looking to hook up, now to a guy who never gives up even in something he's not the best in. That's great and all, but Kyle still has several obstacles ahead of him to make the final. First, he must win this elimination if he goes in, even then he still appears to be at the bottom of the pecking order, and he also appears to be a little injured now.
9. Da'Vonne
Highest Rank – 8 Lowest Rank – 10 Last Week – 12 (+3)
This was a good showing for Da'Vonne this week. Not because she made the Tribunal (she did appear to be the least conditioned out of the final 12) but for her not throwing a mission to put Wes in the bottom 3. This showed the strategic Da'Vonne that we know. While she lacks in the physical aspect of the game, her politicking has stepped up.
8. Theo
Highest Rank – 6 Lowest Rank – 9 Last Week – 6 (-2)
This daily challenge was made for Theo to run all over the competition. This makes two weeks in a row of him not making the Tribunal. Theo has been rather quiet as his alliance has shrunk. This just overall was not a good showing for Theo, he will need to out power Kyle or Hunter if he goes into the Hall Brawl and come back with momentum to get him further in the game.
7. Mattie
Highest Rank – 4 Lowest Rank – 7 Last Week – 3 (-4)
Mattie first was shown discussing with Kyle and Wes about her decision to not vote Cara in. Later in the episode Mattie apologized and appears to have Kyle back on her side. Mattie is currently playing a dangerous game of survival at all costs, but with a couple weeks still left it might be a little too early to throw people under the bus. Mattie needs to win to avoid being the target of the Tribunal next week as she's still the biggest threat head to head in the Killing Floor out of the females.
6. Ninja
Highest Rank – 5 Lowest Rank – 6 Last Week – 7 (+1)
Let's get the good out of the way for once. Ninja and Turbo made the Tribunal. Now, the negatives. Ninja imploded on Turbo, freaking out about the daily challenge before the results. She was acting childish by throwing around things and yelling at Turbo (even if it was out of frustration, this never works). As it looks going into next week Ninja might have developed a target on her back, and an easy one for Turbo to go after should the power fall out of Ninjas hands and into Turbos.
5. Cara Maria
Highest Rank – 2 Lowest Rank – 8 Last Week – 4 (-1)
Yes, Cara didn't win the daily challenge. But, Cara appears to have a lot of pull in this game. Georgia avoided her on the Killing Floor, and her boy friend made the Tribunal, so success through her connections. Cara is showing a weakness by way of her running ability. Wes pointed out last week that she is an over-rated runner and it proved true here. This was just an odd week where Cara/Theo should've made the Tribunal based on his running and her strength. If Cara can keep Paulie out of nominating himself, she is going to continue to coast to another final.
4. Georgia
Highest Rank – 4 Lowest Rank – 7 Last Week – 13 (+9)
Up 9 spots from last week due to a star-studded episode. Georgia won an elimination, got into Wes' head, then made the Tribunal by being the great runner others have feared. Georgia is showing how great performance can get you far in the game, with grit and heart she has the looks of a potential finalist.
3. Paulie
Highest Rank – 2 Lowest Rank – 5 Last Week – 2 (-1)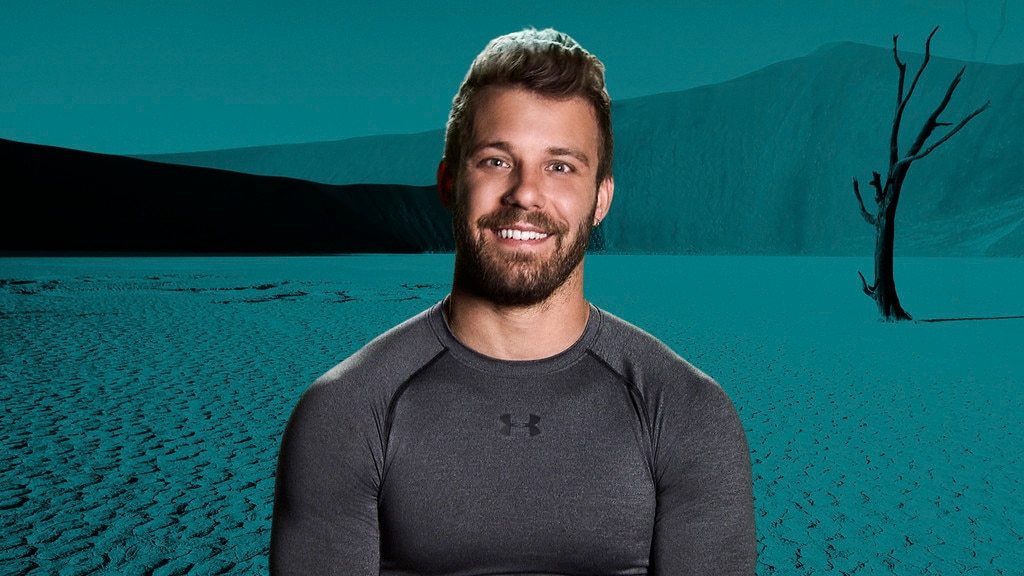 What will he do? First, lets focus on this week. Paulie was pissed he didn't get to partner up with Cara and had to settle with Georgia (this might have been best for him for this daily). After proving his worth, Paulie made another Tribunal. With an injured Kyle just sitting there ready for the picking, will Paulie nominate himself to take out his #1 target, or will he let somebody else to the work for him. If he sits back, I can't see Paulie not running his way to the final.
2. Turbo
Highest Rank – 2 Lowest Rank – 3 Last Week – 5 (+3)
The man that will not quit, will not surrender, and will not back down. Turbo took a slow approach to the daily and it proved to work wonders. Turbo made a statement along the lines of each challenge has one key factor and that's what Turbo focuses on. Turbo showed that he will do what ever it takes to beat anybody in anything they are competing in. When it came to tying up Nany, all Turbo could think about was beating Wes, in the daily Turbo wanted to beat 3 other teams. This factor of Turbo being a true competitor, only taking winning as the answer is what continues to set him apart from other challengers.
1. Wes
Highest Rank – 1 Lowest Rank – 1 Last Week – 1 (0)
The only challenger to have zero movement this week was Wes as he continues to prove why he's a complete challenger. Wes was paired up with Da'Vonne on an endurance competition, that also included strength to carry heavy objects. Despite this pairing, Wes (just like Da) made the most of the situation and showed that he can really work with anyone. This Tribunal win was a huge one for Wes as the Killing Floor presented his worst elimination to date in Hall Brawl. Wes continues to dominate the social game and is raking up another Tribunal. Even with the odds against him, he out performed what the viewers had to be expecting during the daily. The one sour note was his poor performance in aiding Nany during her elimination.
The Results
13.
Finished in 13th Place
Nany had a great return to competition, winning some dailies and showing no fear toward her competition. An unfortunate elimination sent Nany home. It would've been nice to see her get to compete head to head. Nany has developed a relationship with Hunter and Turbo which could help her out if she chooses to come back for another season. Nany was a breath of fresh air this season compared to previous seasons she's been on.
14. Bear
Finished in 14th Place
15. Kam & Ashley
Finished in 15th Place
16. Jenna & Gus
Finished in 16th Place
17. Josh & Amanda
Finished in 17th Place.
18. Leroy & Shaleen
Finished in 18th Place
19. Zach & Zahida
Finished in 19th Place
20. CT & Julia
Finished 20th place
21. JP & Natalie
Finished 21st place
22. Morgan & Bananas
Finished in 22nd Place.
23. Chase & Ashley
Finished in 23rd Place.
24. Liz & Alan
Finished in 24th Place